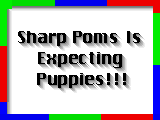 \
Blessed Pomeranian Owner & Breeder Since 1987 ~
ARIZONA POMERANIAN BREEDER OF QUALITY AKC POMERANIAN PUPPIES FOR SALE SPECIALIZING IN: BLUE, BLUE & TAN, BLUE MERLE, BLUE SABLE, BLUE BEAVER, CHOCOLATE, CHOCOLATE & TAN, CHOCOLATE MERLE, CHOCOLATE SABLE, CHOCOLATE BEAVER, BEAVER, ORANGE, ORANGE SABLE, RED MERLE, RED, RED SABLE, LAVENDER, LAVENDER & TAN, LAVENDER SABLE, BLACK, BLACK & TAN, CREAM DILUTE AND PARTI POMS!

YOU MAY CONTACT ME AT (928) 530~1269 IF MY EMAIL IS NOT WORKING sharp_poms@yahoo.com
SERIOUS INQUIRES ONLY WILL BE ANSWERED.
The above collage is a look at some of the beautiful & colorful Pomeranian Puppies the Lord has blessed me with here at Sharp Poms. Each of our litters are whelped in my bedroom and all of our babies are given lots of love and attention each and everyday by my entire family. I want to Praise my Lord for blessing me with these wonderful gifts. For without Him Sharp Poms would not be. Thank you Lord for answering my prayers...

All of our Puppies come with either Full or Limited AKC registration, Pedigree, Vaccinations and wormings up-to-date, 72 hour written health guarantee (You can see a copy of our sales contract on our health guarantee page.)
We have litters on occasion to select loving homes. We never breed our girls every heat and do not have puppies all year round. We raise Poms for the love of the breed and ask that they only go to loving indoor homes where they will be cherished members of your family!
Please note that although we sell most of our Poms with full AKC registration papers, WE DO NOT guarantee size, color, breeding or show quality, only the health of the puppy at the time of sale. Our Poms are sold as companion pets to loving indoor homes only please! Please read our " Health Guarantee Page " before contacting us.
All of our Pomeranian's are AKC Registered and most have some Champions behind them as well as Lot's Of Color! Some of there lines include: Sharp's, Finch's, Wee Heart's, Mason's, Maxim's Pombreden's, Nabob's, Sun Ray's, Heartland's, Underwood's, Millamor, Beau James, Kim Kara's, Blitzen's, Emcee's & Crescendo.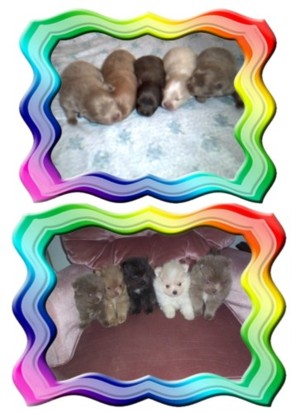 ONE OF SHARP POMS BEAUTIFUL RAINBOW LITTERS PICTURED AS NEWBORNS AND AT 6 WEEKS OF AGE. LAVENDER-BEAVER-BLUE-CREAM DILUTE -LAVENDER...WE ARE SO THANKFUL TO THE LORD FOR THIS BEAUTIFUL LITTER AND ALL OF THE EXOTIC COLORS HE HAS AND IS BLESSING US WITH! TO HIM BELONGS ALL THE PRAISE AND GLORY FOREVER! AMEN...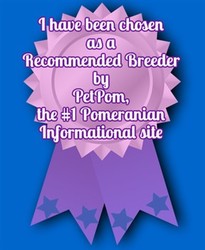 For Information reguarding our puppies or questions you may have, please email us at: sharp_poms@yahoo.com
We check our email daily and will return your email just as soon as possible! Thank you for visiting our website and have a Blessed day!
PLEASE DO NOT REMOVE ANY PICTURES OR INFORMATION FROM THIS WEBSITE WITHOUT SHARP POMS PERMISSION
pomeranian
~ METHODS OF PAYMENT~ We accept Zelle, PayPal, Postal Money Orders & Western Union. Sorry, but we no longer accept personal checks.

<a href="www.petchidog.com">chihuahuadogs</a>